SNUG-FIT All-Purpose Quarter Socks 
Multi-function type
Explore the infinite possibilities of your exercises
Extra space design on toes for full relaxation feeling
Arch support design for the perfect fit
Inject power into every step of your way

- SNUG-FIT All-Purpose Quarter Socks are designed for -

Bicycling, jogging, tennis, badminton, etc.

-Product Features-

Concave Heel Cup Design

Increased stability allows you 
to move swiftly without slip off

Ergonomics design to provide 
close-fitting protection

In response to the common issues 
CHEGO set out to improve the traditional socks
After more than 6 months of research and development
we came up with the design that 
fits the shape of our heels
The slip-off preventing feature allows sport athletes 
to focus on their exercises and improve the performances

________________________________________
Expanded design

Designed for people with a wide forefoot 
the expanded design provides 
the cozy experience for your toes


Expanded design on toes 
for full relaxation feeling

The expanded design allows the 
wide-footed people to stretch their forefoot 
and toes during exercises.
________________________________________
Arch Support: Assist blood circulation

An effective arch support design can assist 
the circulation of the blood flow on foot
 A healthy blood circulation would 
keep our foot agile 
and minimize the occurrence of swelling or pain


Improves the swelling,
Up-level the sport performance
The support coefficient is almost the same as 
the medical-grade compression socks 
which can effectively assist with 
the blood circulation
Even in long-term and high-intensity exercises
our feet can still remain agile and move effortlessly
_____________________________________________
Air-cushioned sock base

The air cushions are implemented at 
the front foot and heel 
to provide well-rounded protection 
and shock absorption
Decompression and cushioning to absorb the impact

Air cushion: Reasons and Facts

Conducted nearly 100 surveys with 
professional athletes 
regarding the most vulnerable areas on foot. 
CHEGO realized it is necessary to enhance these 
vulnerable areas for better sport performance 
and lower the risk of sport injuries
________________________________________
The Breathable Design

Absorbs the moisture, 
keeps our foot dry and stays away from bacterias.

Honeycomb-shaped Mesh: 
Evacuates hot air during exercises

The honeycomb-shaped mesh was implemented 
on insteps to keep our foot cool and dry. 
For people who needs to wear socks 
for a long period, 
the design would greatly lower the bacteria growth rate
and eliminate the foot odor.
________________________________________
Say goodbye to stitches

Inspected and trimmed for thread ends 
to ensure optimal comfort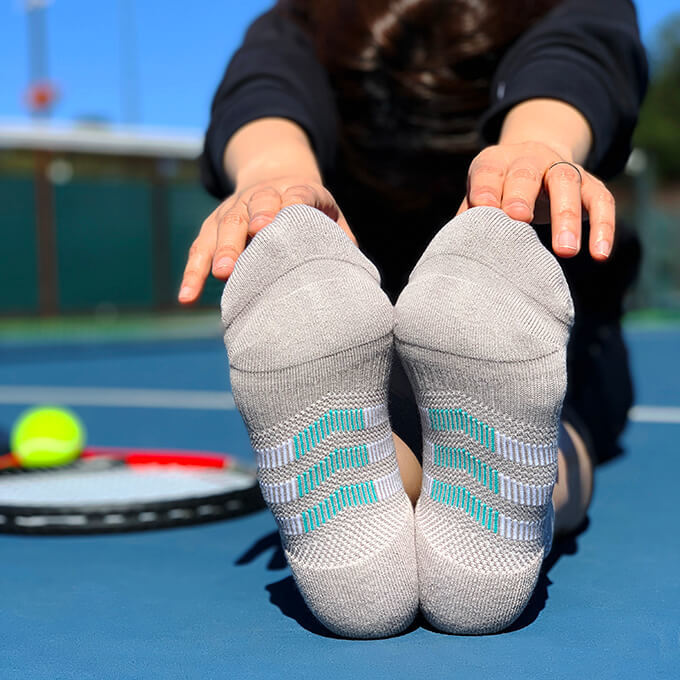 -Medical grade anti-bacteria fiber-
Unknown or low-quality materials might cause 
skin irritation or cancer for the worst scenario.

CHEGO's Commitment: 
We only use biocompatible and 
eco-friendly fibers for our products
Smartcel™ Sensitive Fiber

Certified by international 
medical regulations, DAB10

The Smartcel™ Sensitive Fiber is 
qualified for medical use clothing

Anti-odor

Effectively interrupts bacterial metabolism 
and resists Staphylococcus aureus

Suitable for sensitive skin

Non-toxic, non-allergenic, enhances skin defense 
and prevents UV aggression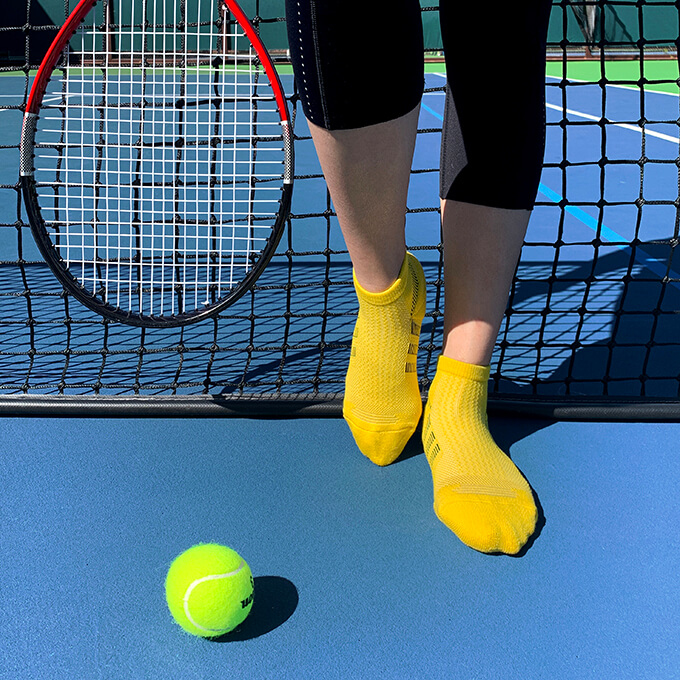 -Fashion Colors-
Variety of color options  to show your taste in detail
Match your sportswear with CHEGO SNUG-FIT All-Purpose Quarter Socks 
________________________________________

-Washing Instructions-

60%Cotton 20%Polyester 
10%Smartcel™ Sensitive Fiber 10%Spandex
100% Design and made in Taiwan