Description
Select "Join Eco Plan" in the "Size Bar"
when planing an order
you will receive "unpackaged goods"
and get a "no packaging discount" for each item
Welcome to join the Eco Plan!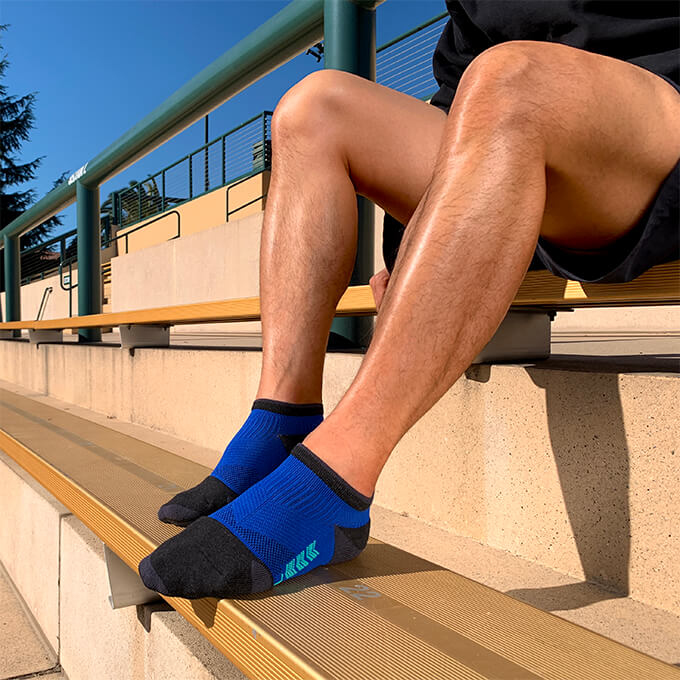 [ BAREFOOT Running Ankle Socks ]
Design with multi-function 3D modeling
to imitate our foot shape
Break the limitations and discomfort of flat feet
Provide the snug fit as if 
you're walking on your barefoot
Woven with different fibers and methods 
to support different areas on our foot
BAREFOOT Running Ankle Socks supports various exercises
-BAREFOOT Running Ankle Socks is designed for-
Marathon, jogging, cycling, basketball
and other high-intensity exercises

-Product Features-
BAREFOOT is woven with
Cooling Feeling Microfiber & Silver Fiber
Full 3D modeling design
to imitate our foot shape for the perfect fit
Effectively solves problems
Such as black toenails and blisters
________________________________________

-Runners' Review-





________________________________________

Barefoot feeling provided by 3D modeling

Wrap seamlessly around the contour of your foot
Enhance the sensibility and performance 
as if you are on your barefoot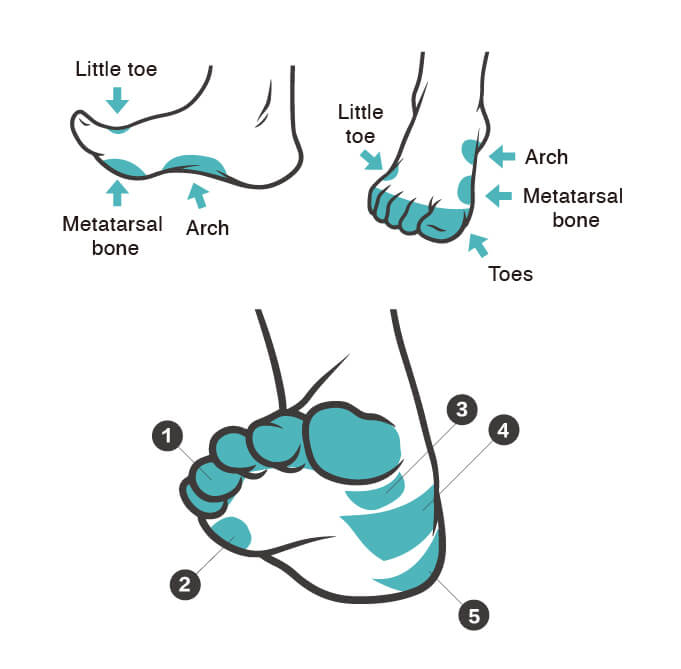 ❶ 3D Modeling Design: Tips of our toes

Designed along the toe curve. 
The 3D modeling design allows our toes to feel 
less stressed and compressed during exercises

❷ 3D Cushion: Anti-friction at the little toe
Little toes are the most vulnerable parts to 
blisters or injuries during exercises
The 3D modeling design is implemented for 
100% fit for socks and our toes
This design would significantly lower the occurrence 
of blisters and sport injuries

❸ 3D Cushion: Anti-friction at the metatarsal bone
Metatarsal bones are the prominent 
area of our foot 
but also the most vulnerable 
to part to sport injuries
In addition to the 3D modeling design
a soft air cushion is implemented 
so that the thicken cushion pad could significantly 
reduce the occurrence of 
blisters and sports injuries

❹ Arch Support: Assist blood circulation
Arch support is the most important design in sports socks
An effective arch support design can assist 
the circulation of the blood flow on foot.
A healthy blood circulation would keep our foot agile
and being able to exercise effortlessly.

❺ Concave Heel Cup: Ergonomic Design
Compare to traditional design
the concave heel cup design is implemented 
for ergonomic purposes to fit our heel. 
Not only minimized the occurrence of sock slip issue 
but also enhanced the barefoot experience.

________________________________________
Arch Support: Assist blood circulation

An effective arch support design can assist 
the circulation of the blood flow on foot
 A healthy blood circulation would 
keep our foot agile 
and minimize the occurrence of swelling or pain


Improves the swelling,
Up level the sport performance

The Cool Feeling Micro Fiber is 
implemented at the arch 
for better fit and support purposes 
compared to traditionally used cotton. 
Not only the arch support maintains the foot 
agility during long duration and 
high intense exercises
but also the Cool Feeling Micro Fiber assist to 
lower the heat created in such condition. 

________________________________________
Air-cushioned sock base

The air cushions are implemented at 
the front foot and heel 
to provide well-rounded protection 
and shock absorption


Decompression and cushioning to absorb the impact

Air cushion: Reasons and Facts

Conducted nearly 100 surveys with 
professional athletes 
regarding the most vulnerable areas on foot. 
CHEGO realized it is necessary to enhance these 
vulnerable areas for better sport performance 
and lower the risk of sport injuries
________________________________________
The Breathable Design

Absorbs the moisture, 
keeps our foot dry and stays away from bacterias.


Honeycomb-shaped Mesh: 
Evacuates hot air during exercises

The honeycomb-shaped mesh was implemented 
on insteps to keep our foot cool and dry. 
For people who needs to wear socks 
for a long period, 
the design would greatly lower the bacteria growth rate and eliminate the foot odor.
________________________________________
Say goodbye to stitches

Inspected and trimmed for thread ends 
to ensure optimal comfort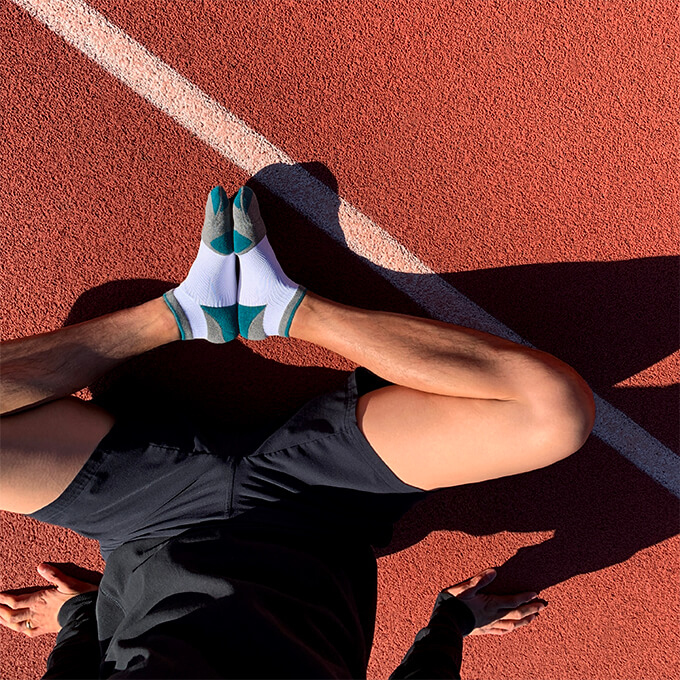 -Medical grade anti-bacteria fiber-
Unknown or low-quality materials might cause 
skin irritation or cancer for the worst scenario.

CHEGO's Commitment: 
We only use biocompatible and 
eco-friendly fibers for our products.
Taiwan Silver Fiber
Taiwan Silver Fiber has passed the biocompatibility 
testing ISO 10993 Biological Evaluation 
of Medical Devices. 
Sensitivity, Irritation and Cytotoxicity test results 
have proven that our material is harmless to 
human body for long-term contacts. 
The Taiwan Silver Fiber is the only fiber that 
obtained approvals from both 
EU and US authorities
Anti-odor with silver ions
Silver ions and oxygen radical ions work together to breakdown bacterias.
Say goodbye to foot odors
Eco-Friendly
CHEGO utilizes eco-friendly fiber which 
consumes low raw materials and energies 
during the production process. 
Zero wastewater was produced from 
the beginning to the finished product

Proven Durability
Proven durability for over 
300 machine washes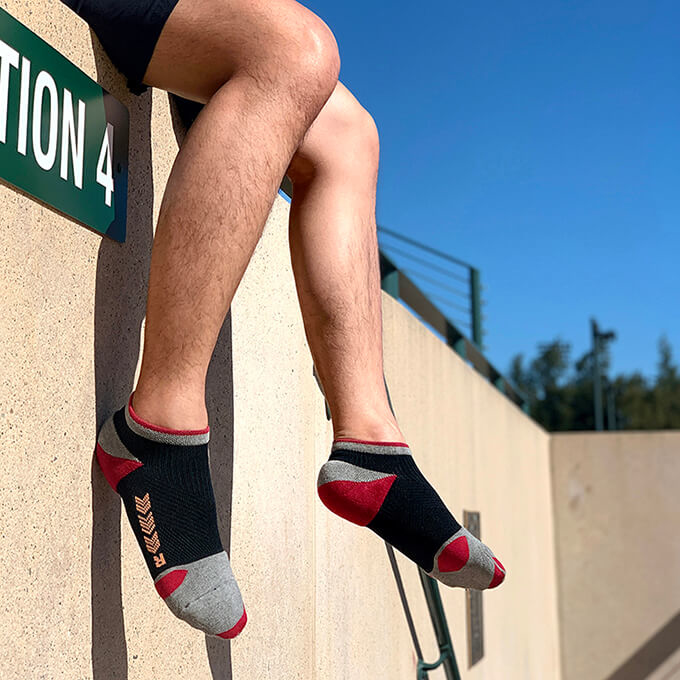 -Fashion Colors-
Variety of color options  to show your taste in detail
Match your sportswear with CHEGO BAREFOOT
________________________________________

-Washing Instructions-
30%Cotton 30%Microfiber 15%Nylon 
10%Taiwan Silver Fiber 10%Spandex
100% Design and made in Taiwan